When you create a custom print version of the phrasebook, there are a few things to keep in mind:
Before you start, check the existing versions on wikibooks – maybe a print version already exists?
Please contact your local refugee initiative in advance, to make sure you produce a booklet that helps an existing need. You'll need the following information:
Which languages are required? How many pages can they print? Which sets of phrases do they need (e.g. general orientation / medical / juridical ) ?
Office and design software often breaks non-western script, rendering it unreadable. Unfortunately, this is hard to detect if you are unfamiliar with the language. To be on the safe side, please check your test print with a native speaker before you print thousands of copies.
For a quick impression, you can use the following test for the word "hello". The Arabic word should look similar to the example in the green field: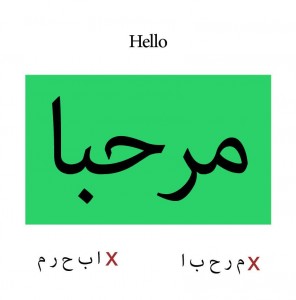 For further details on conversion, please check the documentation here. If you need support to fund your a local print run, please contact us at info@refugeephrasebook.de .